Dalhousie is grateful for The George W. Wilson & Teresa Madelyn (Merriam) Wilson Foundation's support and shares with them a common goal to enhance the lives of people living in communities across Atlantic Canada. The arts and culture sector offers significant opportunities to bolster our region, as an economic driver that creates jobs, attracts and retains talented staff for the region and grows associated sector such as tourism. It also increases societal wellbeing by providing enjoyment, entertainment and engagement for a multitude of audiences.
Through Dalhousie University's Performing Arts Campaign, the university will strengthen the regional and national cultural scene by setting a new standard in arts education and increasing the quantity, quality and diversity of opportunities for emerging and established artists, arts organizations and audiences in the region for generations to come.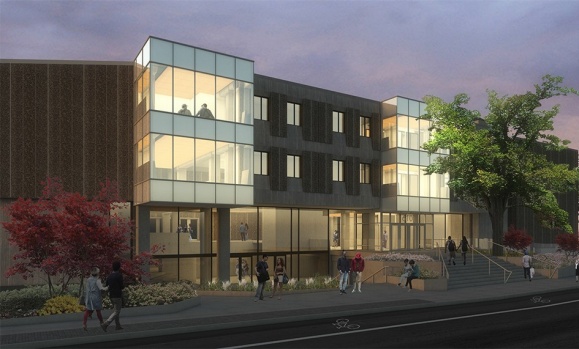 Architect's conceptual rendering of the revitalized exterior of the existing Dalhousie Arts Centre
ARTS CENTRE REVITALIZATION INVESTMENT
The campaign will provide much-needed upgrades to the Dalhousie Arts Centre. This revitalization work will improve audiences' experiences and the facilities' accessibility, while extending the life and energy efficiency of the building through needed upgrades to operating systems and spaces. These improvements include a more welcoming, accessible and attractive foyer, improved air quality throughout the building and enhancements to the iconic Rebecca Cohn auditorium.
PERFORMING ARTS CENTRE EXPANSION
The expansion will also bring all the Fountain School of Performing Arts' programs under one roof, including the Costume Studies program, which for decades was housed off campus. The new wing will also include rehearsal and performance spaces, including the Joseph Strug Concert Hall.  This exceptional new 300 seat performance space, purpose-built for music, will support the sounds of everything from a solo voice recital, to a chamber orchestra or jazz ensemble. Strug Hall will serve music students and will be available to external arts organizations and partners in the community to present new music, local festivals and competitions, filling an essential gap in mid-size venues in Atlantic Canada.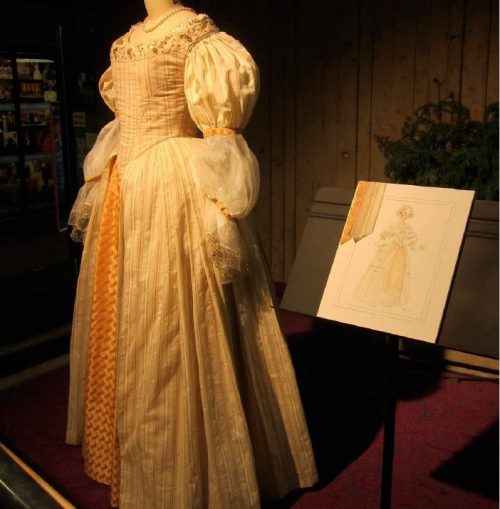 A period costume is displayed next to the design sketch of the piece.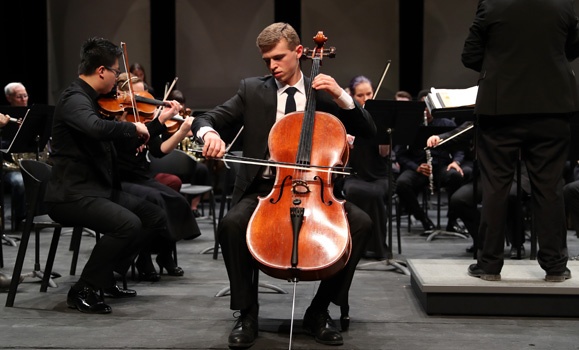 Jacob MacDonald, third-year music student from Hants County, Nova Scotia, performs at the Fountain School's annual Concerto Night.